---
In Loving Memory
Keith Raymond Handy
December 26, 1926 - January 29, 1993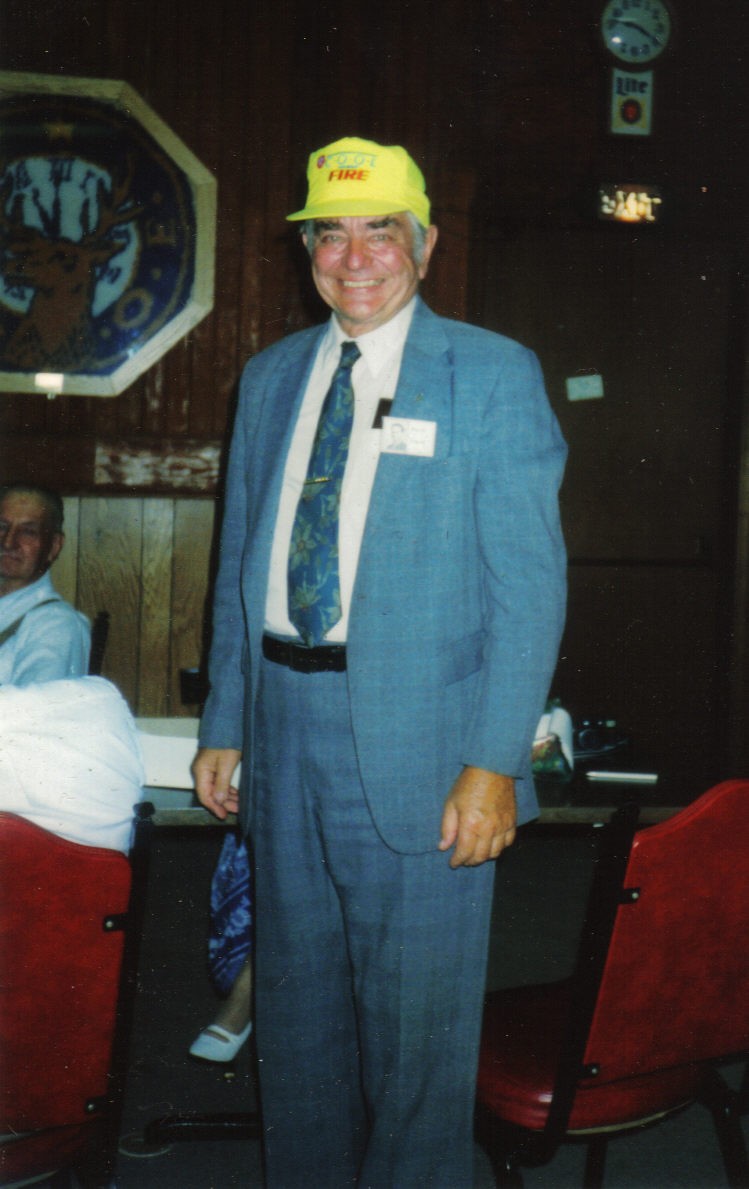 January 29, 2013 marked the 20th anniversary of the passing of my maternal grandfather, Keith Raymond Handy.
He was born on Sunday, December 26, 1926 to Herbert Asa & Gertrude Evadean (Groff) Handy at the Groff Farm, now the Handy Hills Farm, in St. Johnsville, Montgomery County, New York. In fact, he was born on the dining room table, which I believe is still there today, 81 years later. His mother, Evadean wrote the following in her 1926 memoirs about his birth:
"On Saturday, Dec. 25, mother Handy and Harold went to Dolgeville to spend Christmas. We went to father Groff's and took father & mother to see Floyd. Then we went home as Herbert had to be there to do the milking. About 3 o'clock the next morning, I woke Herbert up and told him we had better go over to father Groff's and call the doctor, as I thought our baby was going to arrive. We had not expected to have to go until the second week in Jan. It was a bitter cold morning, and after a while Herbert got the Ford to start and we went to father Groff's. They were surprised to see us that early. Dr. Feldstein came. As the practical nurse, whom we had planned to assist the doctor was on another case and couldn't come, Mildred Handy Thresher, a nurse and friend of ours came over to help. Herbert had to go home to milk, but he got back before the baby came. About 10 o'clock on Sunday, December 26, 1926, our baby boy, Keith Raymond Handy, was born. Through the hospital we secured a practical nurse, who came for a week to take care of the baby. After she left, Floyd helped many nights to take care of Keith. Mother Groff had heart trouble and we did not want her to get up in the night."
He grew to be a big toddler, as evidenced in the following picture taken when he was 22 months old, but it was not always that way. Evadean wrote the following in her 1928 memoirs: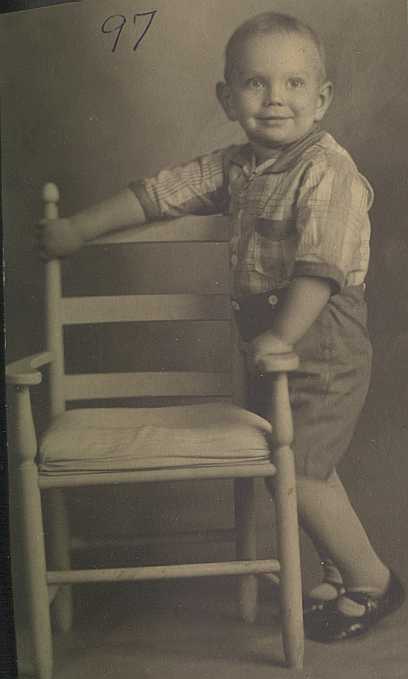 "I was glad when mother Groff was well enough to come over to visit us. I was always happy and relieved when she came over. I worried about Keith R. as he cried a lot and I hadn't had any experience with children. It kept me busy taking care of him and getting the meals ready on time. Our hired man, Dan Cramer, was cross if he came into the house and meals weren't immediately put on the table. The doctor decided Keith R. was not getting enough to eat. After Dr. Feldstein increased the amount to be given to Keith, the baby was happy and grew rapidly."
From my readings of his mother's diaries and those of his grandmother Antoinette Groff, he was a good little boy for them, and at times a little mischievous! But what toddler wouldn't be?
Keith grew up on the farm, and followed in his parents' and grandparent's footsteps. His parents eventually adopted his sister, Joanne Mary Myers, on January 1, 1942 when she was eight years old and he was 15. Joanne was born on April 28, 1933 and died on April 2, 1993, shortly after his death in January. She married and divorced Gordon Schaetzel, and they had two children, Alyson, who died in 1996 and is buried with Joanne, and a son who is still living, married, and has two sons of his own. Alyson also had a daughter who is still living.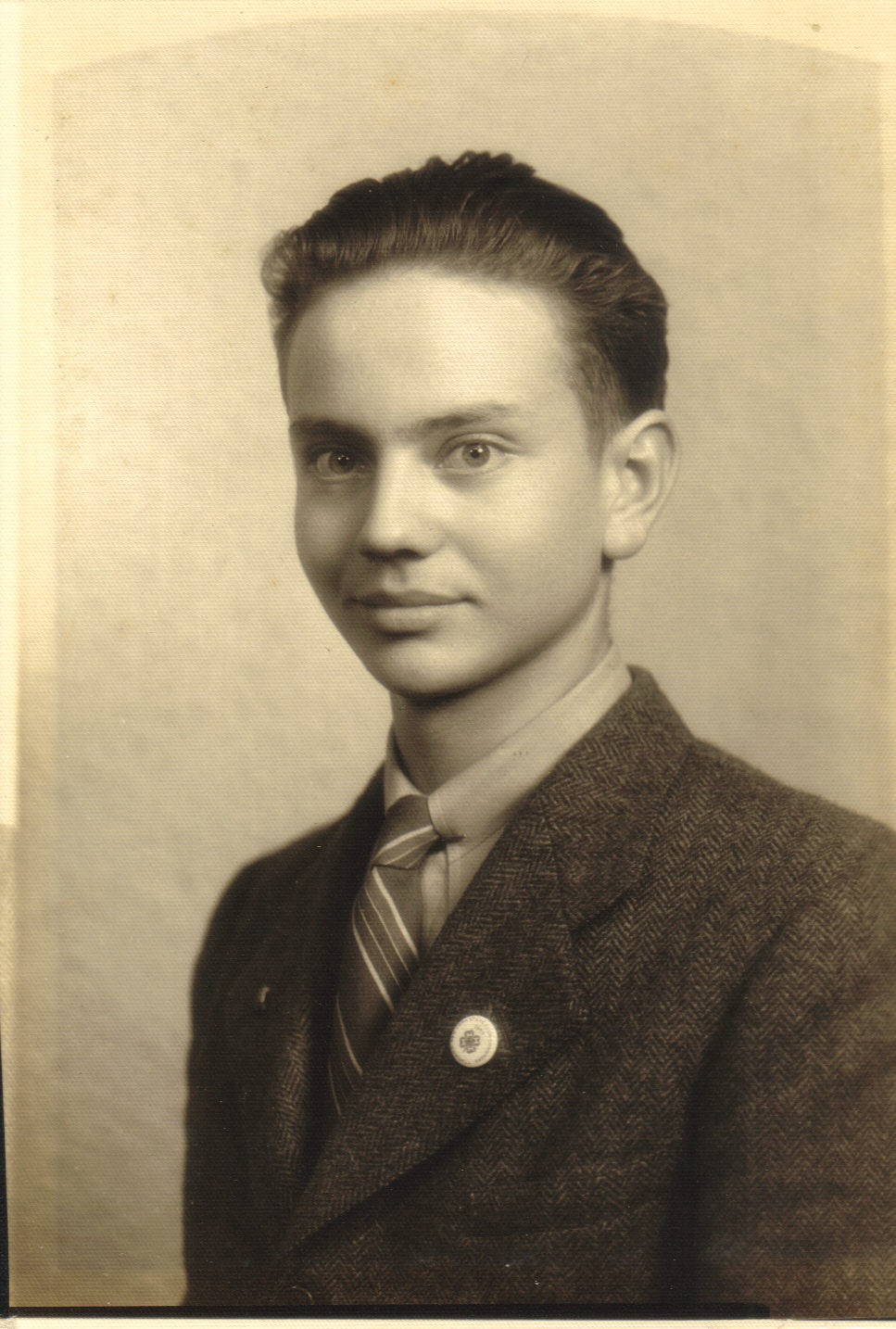 When Keith was old enough, he went to an old country school on River Road in Ft. Plain, New York, where he went through the grades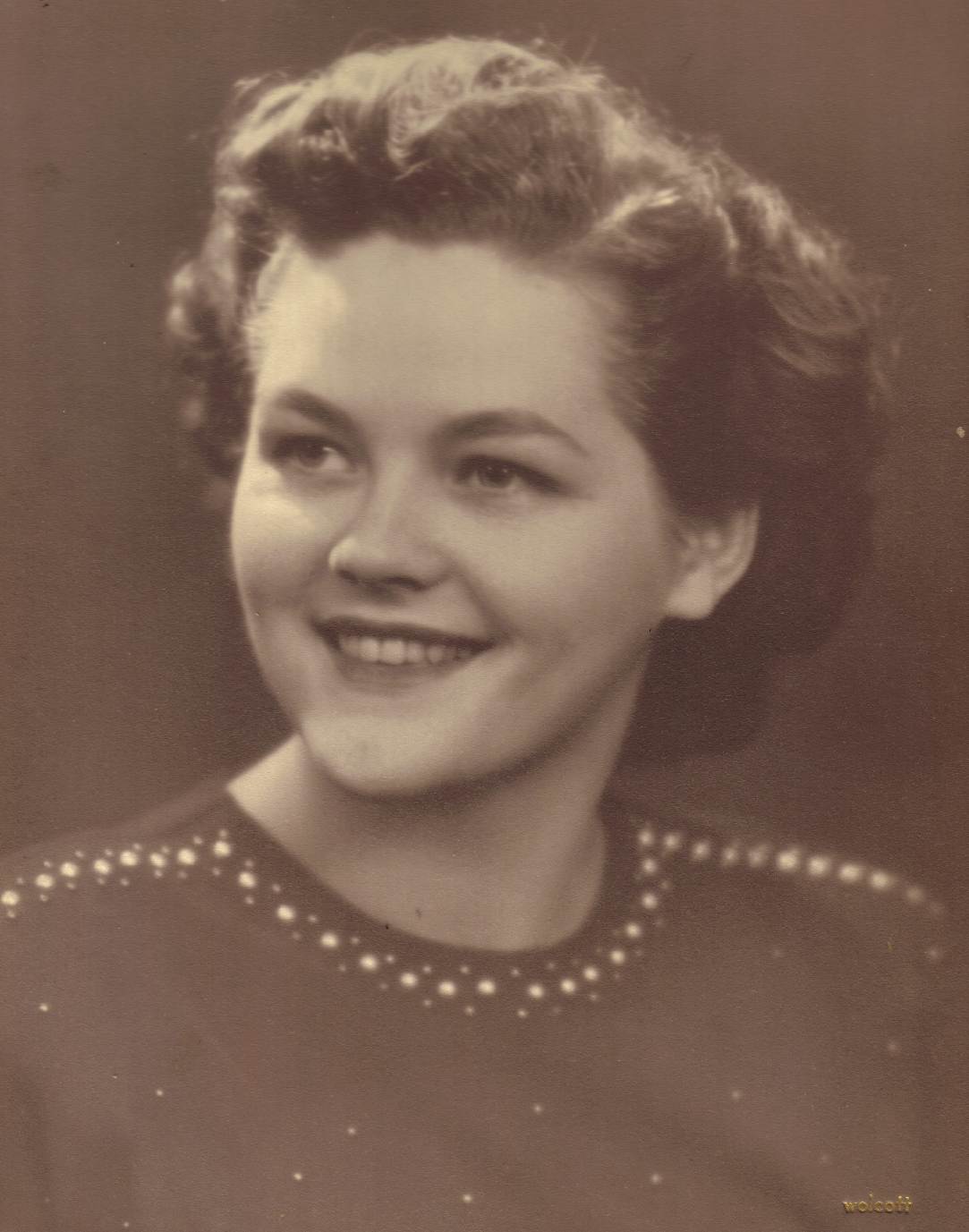 very quickly. He eventually went to Ft. Plain High School, where he graduated at age 15 in 1942. The picture above at the top of this page is that of his 50th High School Reunion. Although he was not in the Ft. Plain school district, he was allowed to attend there because his mother taught mathematics there. The picture to the left is him as a teenager.
After high school, he went to Purdue University in Indiana to pursue an engineering degree, but he never finished. World War II came calling and he returned home to work the farm with his father, where he would remain the rest of his life.
A few years passed and his mother kept telling him he needed to meet a girl named Janice Marie Streed, because she was a smart, good Christian girl and a hard worker. So he followed her advice, and won her over, and they were married the day after he turned 21, on December 27, 1947.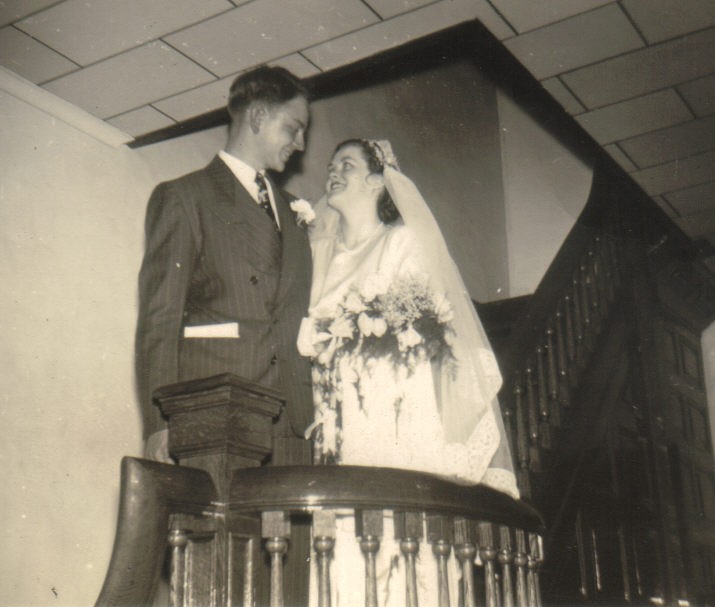 Mr. & Mrs. Keith R. Handy
Keith and Janice went on to have six children, three of whom followed them in the farming business. In 1969, the Groff Farm where Keith was born was bought from Marion Groff by him and his eldest son, Keith Herbert, who still runs the farm today. The farm, renamed Handy Hills, recently won an award in 2007 for being one of the few farms in operation for over 200 years by the same family. The award included a letter from the Governor of New York State, Eliot Spitzer.
Keith and Janice had just celebrated their 45th wedding anniversary in December 1992 when God took him home very quickly on Friday, January 29, 1993 in their home in Ft. Plain, New York. Keith was buried in Fair View Cemetery at Handy Hills Farm, St. Johnsville, Montgomery County, New York.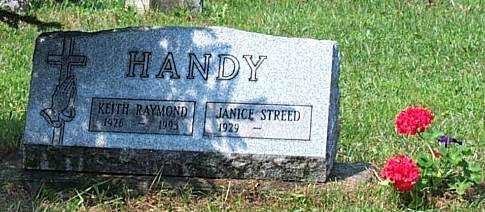 It was upon his death that I learned what kind of legacy he left behind. Having never lived in Montgomery County, New York, I never knew how many lives he touched.
Hundreds of people came through the funeral home to pay their respects on Sunday, January 31, 1993. The visiting hours lasted eight hours! There were also a few hundred the next day for his funeral at Crum Creek Evangelical Lutheran Church.
I personally remember his hugs, his kisses, and his "growly bear" chasing me and my cousins around the house the most; I was 14 when he passed away.
Keith had 22 grandchildren and one great-grandchild at the time he died.
Fifteen years later there are 24 grandchildren, 50 great-grandchildren, and 1 great-great-grandchildren. His memory lives on in all of us, who still miss him dearly. So much has changed since then; his widow for 20 years, my grandmother, passed away on April 13, 2013 at the Handy Hills Farm in St. Johnsville, NY, surrounded by family. The family still owns the home that Janice lived in for 60 years. Keith & Janice not only left a large family, but their spiritual legacy lives on as well.
I found him to be wise and full of the love of the God he trusted in for his life and his salvation. He was a servant to his family and community, and he passed that on to all of us. Today we are mothers, fathers, husbands, wives, farmers, teachers, nurses, doctors, pastors, engineers, state troopers, and serving our country. And we are all certain that we will see them again one day.
What will you pass on?
---